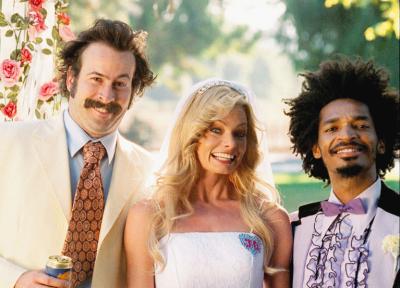 From 2005-2009 NBC graced us with a hilarious thirty minute comedy called My Name is Earl.
If you haven't watched it yet, or just forgot how hilarious the show is don't fret.
Netflix has all the seasons available for your streaming pleasure, and if you still don't have Netflix well thats is just crazy.
My Name is Earl stars Jason  Lee as Earl.
Earl is a trashy, low life living in the poor town of Camden, New Jersey.
He obtains a winning lottery ticket, and is immediately hit by a car. Causing him to devote his life to karma.
He starts a list of all the bad things he's done and sets out on a quest to  make amends.
Some of the supporting stars are his goofy little brother Randy who follows him everywhere, an illegal very hot maid named Catalina, and his ex wife Joy Turner.
Joy is my white trash spirt animal.
One of my favorite episodes is her wedding to Darnel, or Crab Man as Earl refers to him.
Earl has to throw Joy the perfect wedding to make up for the one he ruined. He came to the  first wedding ceremony drunk, and since the ceremony was at the city park when a kids soccer ball came near by he kicked it away, but away was at Joys face….
If you are ever in need of a good laugh find this episode. Season 1 episode 8.
Watching Joy and Earl put on this event that in some cases people will spend 25,000 dollars on a venue alone is spectacular.
They even splurge for the fun paper plates, and second hand wedding dress that Joy just de stains and adds some glitter to.
The rehearsal dinner is at a place like Chuckie Cheeses.
The wedding party grouped together in a party room sharing pizza and beer, while the kids go thru the plastic germ infested tube mazes, and play video games.
Not a bad idea when you really think about it.
There are a million reasons why you will fall in love with Joy, and not just because of her unbelievably sexy arms.
The way she says the word "dummy" alone will inspire you to channel your inner Walmart.
My Name is Early is ghetto fabulous perfection.