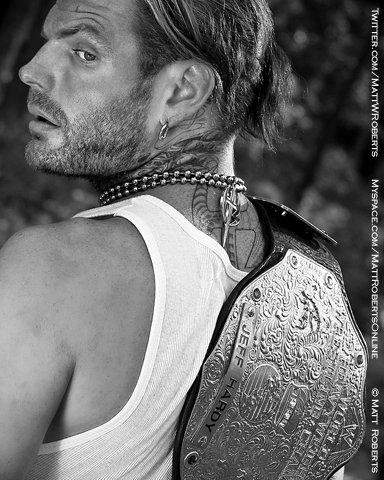 I grew up a hard core WWE fan.
I have fallen off the wagon here and there in my life. One of those times was middle school so I missed the beginning of the attitude era. This causes me great heart ache now as I can barely sit through whatever bullshit foo foo era we are in  now.
I can't say what made me turn on Raw one night way back when in 1999 ,but I found  a stable that would go on to be called Team Extreme and fell madly in love. There was a fiery red head with the most bad ass shoulder tattoo I had ever seen, The most delicious man to be in the squared circle in decades Jeff Hardy and his older brother who was genetically robbed.
I started watching religiously again.  I couldn't go a week without marveling at the perfect lines of Jeff Hardy's jaw. The way he would rip off his shirt right before he dangerously jumped off something high onto an opponent. His desire to break down gender lines never looking drag queenish. Whether it be eyeliner or fishnets on his arms the man always made it look sexy.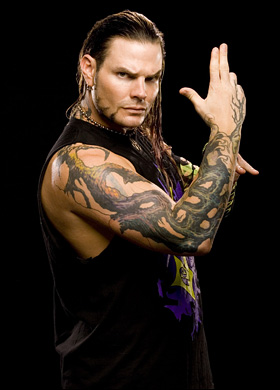 In later years he tattooed  tree branches up his arm and down his hands. This perfectly placed tattoo bringing his hotness factor to a solid 10. Jeff was never really a talker. He lacked the charisma he needed on the microphone, but honestly who even cared what he was saying? He was saying it in that get your panties wet North Carolina kind of southern accent.
He graced us all with an awe inspiring arsenal of moves. Week in and week out doing something that could possibly cause him serious injury just to hear the crowd pop.
It was a golden age for Wrestling fans. We still had Stone Cold slamming beers together, A tag team division that was remarkable, and still all these years later unmatched in the quality and innovation of their legacy. We had the first popular anti skank female wrestler,and most importantly we had Jeff Hardy and his over the top yum yum yummy bone structure.
I loved Jeff Hardy after a while because he was awesome. He was crazy as shit to do the things he did.  His entire presence in the ring was liberating. Something about his mere existence was inspiring… I mean it could be the way he would thrust his hips back and forth when his entrance music came on, but Im trying to be deep over here.
WWE has always been a good place to admire some sexy men. Most of the time you get to look at some hotties in spandex panties, but Jeff hardy always kept it real in his baggy black pants, and that was fine with me. He isn't just a piece of eye candy. There was always something more substancy about him.
If there is one thing you should know about me it's that I have NO desire to meet the Tv people that I lust or love so dearly. The thought of it actually gives me anxiety. I love the character these people portray in my cozy little fantasy world. I have no desire to ruin that. I am confident that if I ever ran into the Undertaker at the grocery store I would abandon my cart and run for the hills. Finding out they are just real people kills the magic. Jeff Hardy is in that boat, but I wouldn't pass us a personal feature about him they way I would about someone else. You could always just feel that he brought a real piece of himself to work. Pieces he couldn't put away for the camera.
Jeff is still wrestling for TNA. I could tell you I have jumped ship from WWE and started watching TNA religiously, but I haven't done that either. I will stumble across a picture of him now and then and stare for a while. He is still as fine as he was all those years ago.
I don't think wrestling and I are really over, but until I can stay up past 8:30pm we are going to stay friends with benefits.
Have a Delicious Monday!