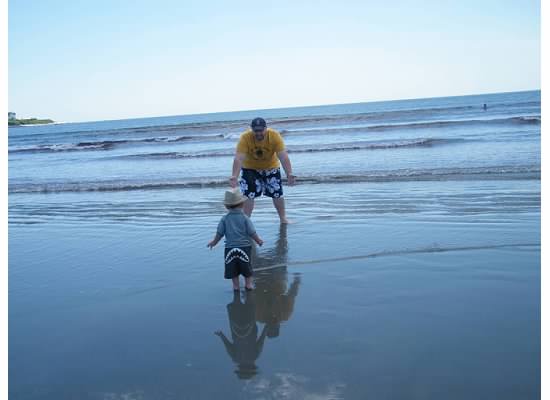 Yesterday Hubbs and I had a  very rare opportunity to leave the house for an hour while the sun was still out. We decided to head down to the beach and get some chowder.
This is Rhode Island after all.
On our way to the sand I thought of my cousin who is more like my sister. She and her boyfriend headed west at the end of this dreadful Winter to start an amazing adventure together.
I wondered about the west coast in general. How they can just go to the beach no matter the season.  Watching a February sunset on the sand is a normal thing to do, and I wondered what makes that so unappealing to someone like myself who loves the ocean.
I think it has to do with my need for a little gloom, my love of a good snowman, and the falling leaves in October.
Being on the East coast reminds me of  the ebb and flow of karma, it keeps me grateful, and leaves me spoiled.
I sat on the sand and closed my eyes and let the scent of my childhood wash over me.
The smell of salt, and shellfish on a humid June day.
Somewhere in the corner of my brain I can see my Mother glimmering with baby oil, back up against the sun, bathing suit top somewhere underneath the cooler.
I can see my Dad, and myself walking along the rocks looking for snails to pick. When we get home he will boil them and we will sit around the table clothes pins in hand to pull the dead bodies from their shells and eat them.
I can see my pile of books that I have lugged to the beach to escape from the pounding sun.
I want my kids to smell the Rhode Island summers and think of home.
I want them to know that they can come back to this place long after I have left this world, and know they belonged somewhere.
I also want sprawling acreage, panoramic views of the ocean from my living room, farm animals, and heated bathroom floors.
I will always be the perfect combination of pretty and substancey.