I have been calling around to local daycares lately for Lady Baby. I am selfish and want to squish  Last Baby all day and watch Game of Thrones. However, the going rate of 620 dollars a month for two half days is a no thank you stop being lazy Janika. Instead I have decided to implement preschool at home. I know how to do this I have worked in plenty of preschools before, and did the same thing with OG baby when he was a little older.
You DO NOT need a degree to do this at home with your children. It is not sixth grade math. It is shapes, and colors, and fun.  My other suggestion to you is do not be afraid to make a mess. You cannot have fun with a toddler if you are always worried about the huge mess they are making.
Lady Baby is barely 2.5 years old. She does have an extensive vocabulary, but she still has no clue what  is going on in the world really. So this is more lets have some structured fun, and see what sticks. There are no expectations. I do not expect her to be reading in a year. We are just exploring the world on her level and having fun.
Week 1:
10 kids, 4 kids or 1 kid I always start a "preschool" day with circle time. This is what they do in any center.  I like to sit near the sliding patio door so we can go outside and check the weather, and talk about how we should dress today.  I will sing her a song, talk about what we are going to do that day and mention the month and day of the week. I have fun bears I acquired at a teachers yard sale that have the days of the week on them. I will hang the bear up on the door, and then just write the date next to it in window marker. I do not ask her to repeat it back to me or to actively listen to me. The sitting part for a toddler is practice in patience enough for one activity.
Since it is almost summer time I thought I would get a late start on some spring time fun. Today we learned about flowers, and seeds.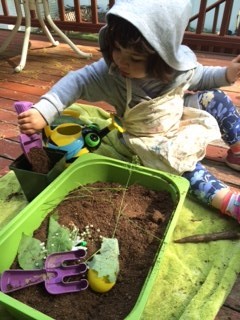 I take a morning walk most days so it was easy for me to collect some fun stuff to make her a dirty dirty sensory bucket. The weather is bright and sunny so we filled a bin full of dirt and goodies and stuck that on the porch and let her dig around for a while. As she is plopping dirt all over the patio I am talking about spring stuff. Toddlers learn by listening. She LOVED this. We were out there on the patio for 45 minutes.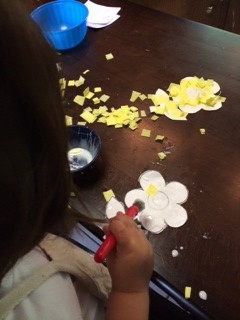 We also broke out the glue and made a mess with tissue paper. During this activity I am talking about squares, the color yellow, and most importantly not eating glue.
We have a very fun kid backyard so for outside time we left our birdie friends some practical presents. I do not like to feed wild animals. I feel like it fucks with evolution.  Instead we left them some yarn to help build their nests, which might also mess with evolution, but wtf.
We had a fun filled day of spring time, and there were no tantrums involved. The more occupied the toddler the less likely they are to lose their shit.