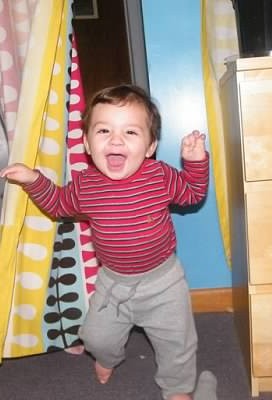 There is only one week of school left.
 Next week I will walk into a cafeteria and watch my first baby graduate Kindergarten. Long gone are the days that it was just the two of us. Spending all day together doing chores, going out on adventures, and taking mid day naps snuggled up against each other.
 I am sharing some of the things I learned this year with you.
 1. He can read.
He started off the year with a vague concept that letters made words, and now he has a stack of summer reading books piled up on the kitchen counter. He chooses Magic Tree House Books for me to read to him, and points out all the words he knows.  His "grown upness" showing off in literary form.
2. He has concrete ideas about gender roles:
This is the down side of school.
Before Kindergarten this kid would watch My Little Pony's and ask me to paint his nails. It took most of the year to convince him that there is not such thing as a girl color. He is still on the fence about it. Every time he chooses pink or purple for his drawings he has to exclaim "I can use this Mama, because there is no such thing as a girl color.
3. He has neighborhood friends.
Cruising through the neighborhood in my double stroller I always happen upon one of his classmates parents. We chat about play dates, and summer plans. All the while I am envisioning a future where my barely recognizable OG Baby will hop on his bike and cruise down the street to hang with his buddies.
4. The dreaded "I don't know" sets in.
Every afternoon Og comes barreling up the front stairs. He empties his back pack, washes his hands and walks around like he wasn't gone for all those hours. When I ask how his day was he says "I don't know. Whats for snack?" I have learned to ask more direct questions. Focusing on specific things I know that happen during his day.
" How was free center time today?"
that usually sparks more of a conversation then "how was your day."
5. Your baby is long gone.
Og has morphed into a real life boy. Long, lean and toothless. He will catch me staring at him and my eyes will well up with tears.  He hates this over show of emotion.
"Oh God Mom come on don't cry!"
I tell him I can't help it, which is true. I can't help but stare at the cluster of beauty marks on the side of his eye and remember my baby. Hidden away in the deep brown eyes of this boy. Sometimes I just get overwhelmed with the happy memories of the beginning of my life as a Mother.
Of coarse he will always be my baby, but it is different now.
He has taken his first steps into his own life, and it is bittersweet.
6. Your grocery bill significantly increases.
I have heard about boys and food, but this is the first year I have seen it. This kid is always hungry unless I offer him salad, which I do after  his third snack in an hour. Im in awe of where this food goes. He is so skinny that when he visits my old from the Motherland Portuguese Grandmother she gives me dirty looks. She immediately starts looking for things for him to eat, as if I must be starving him since he isn't fat like all the rest of her grand babies were.
I can clearly see the person emerging.
Pushing out shedding all the baby skin left.
I get really excited for him when I think of all the things he has yet to see.
Everyday he is closer to becoming who he is.
Not mine.
Next week I will walk into the last stretch of babyhood.  I will sit on a cold metal chair with my last baby in my arms and watch as my first born step into the next phase of his childhood.
It is hard to believe 6 and a half years have gone by since I brought him home form the hospital. It is one of those paradoxes that feels a million years away and just like yesterday.
Kindergarten was amazing, and heart breaking all at the same time.
5.