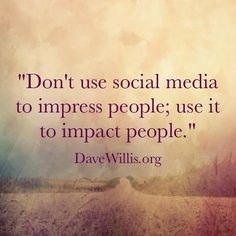 I have been going through a social media step back.
I don't know if you ever have those times in your life when you need to disengage from your social media and watch the real lines of your life come back into a solid view.
I love Social Media.
I love being able to see an old elementary school friend throwing birthday parties for her babies, cousins I wouldn't get to keep up with, and long lost friends who still make your heart smile when you see a picture they posted.
But, it's not real life.
Even if it is the reality of how we socialize in 2015.
It is not real life.
Facebook friends are not the people you call in an emergency.
Facebook is like being on someones Christmas Card list. It allows you to stay updated without any commitment.
As much as I enjoy keeping up with people who would be lost to me otherwise Social Media is a another thing you have to think about before you use.
You have to accept that family members friend request, or not unfriend them when you really, really want to so you do not cause any drama at the next family party.
Instead of telling someone who is so over the top dramatic, and over sharing to shut the fuck up you scroll by quickly and try not to let the thought of how stupid they are damper your happy mood.
You have to unfollow people from your news feed, and star other ones so you actually see people you want to keep updated on.
It makes you aware that  you are now a brand.
All anyone has to do is google search your name and there you are.
That overwhelming sense that everyone was watching you in adolescence has come true.
If someone wants to find you they can, and their first impression of you is not a sparkling smile, and firm hand shake, it is a ranting soap opera post about feeling betrayed by someone who is not even thinking about you anymore, or it is a pic of you doing shots with your boobs hanging out.
Social Media means you have to by hyper sensitive to what you are putting out in the world.
The way you want people to see you at the touch of your finger tips.
Some people could give a shit.
Posting boarder line porn, and over sharing to the point that you wonder how they think that is ok at all.
I am not one of those people.
I share happy things, hot boys, and every once in a while something that is very important to me.
Like, the Government not giving a shit that corporate America is poisoning our food, or how I do not see how changing your profile pic to a super hero shows pediatric cancer awareness.
But mostly it's happy stuff.
I have been sadder than usual during this last piece of summer.
Readjusting my circles, and putting not just physical things in new places.
When I have nothing bright and sunny to share I don't, because what I would like people to think about when they think of me is that I love DMX, I am a touch perverted, and I'm generally a happy girl living the dream.
All of those things are very true.
I hate to post temporary emotions, and so I don't.